Health and Life Skill Programs
Programs in this core area develop young people's capacity to engage in positive behaviors that nurture their own well being, set personal goals and live successfully as self-sufficient adults.
31% of Club girls ages 12 to 15 are physically active every day, compared with 23% of girls in the same age range nationally.
​
According to BGCA youth outcome data
Health and Life Skills Programs
Passport to Manhood

Passport to Manhood promotes and teaches responsibility in Club boys ages 11 to 14. Passport to Manhood consists of 14 sessions, each concentrating on a specific aspect of character and manhood through highly interactive activities. Each Club participant receives his own "passport" to underscore the notion that he is on a personal journey of maturation and growth. The program includes a service project where boys learn the importance of giving back to the community. Passport to Manhood represents a targeted effort to engage young boys in discussions and activities that reinforce character, leadership and positive behavior.
SMART Moves

(Skills Mastery and Resistance Training)
This nationall acclaimed, comprehensive prevention program helps young people resist alcohol, tobacco, drugs and premature sexual activity. SMART Moves features engaging, interactive, small group activities that increase participants' peer support, enhance their life skills, build their resiliency and strengthen their leadership skills. This year round program encourages collaboration among Club staff, youth, parents and representative from other community organizations. The programs components are SMART Kids, for ages 6 to 9: Start SMART, for ages 10 to 12: and Stay SMART, for ages 13 to 15.
SMART Girls

SMART Girls is a small group health, fitness, prevention/education and self esteem enhancement program designed to meet the developmental needs of girls. Through dynamic age appropriate (ages 8 to 12 and 13 to 17) sessions, highly engaging activities, field trips and mentoring opportunities with adult women. Club girls explore their own and societal attitudes and values. The program emphasizes building skills for eating right, staying physically fit, getting good health care and developing positive relationship with peers and adults.
NetSmartz




(A Club Tech Program)
Developed in collaboration with the National Center for Missing and Exploited Children, NetSmartz teaches Internet safety skills through engaging multimedia activites and offline interaction with Club professionals. The program is available in three age appropriate modules: Clicky's Web World, for ages 6 to 7; NetSmartz Rules, for ages 8 to 12; and I-360, for ages 13 to 18. Topics include personal safety, shopping safety and ethical use of the internet.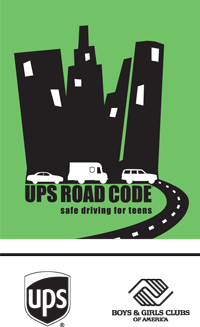 UPS Road Code
Motor vehicle accidents ae the leading cause of death for U.S. teens, accounting for more than one in three teenage deaths, according to the Centers for Disease Control and Prevention (CDC).
​
The UPS Foundation has partnered with Boys and Girls Clubs of America on a national program to teach safe driving techniques to teens - UPS Road Code. This program is based in large part on the same safety training used with UPS's own drivers.
​
The Boys and Girls Clubs of Central Arkansas is proud to have been selected to receive a grant this year to implement UPS Road Code, bring this critical life saving initiative to the many teenagers at our 7 clubs in central Arkansas.